Summer Sensation Celebration Day
Our Summer Sensation Celebration Day was amazing and the atmosphere that was created by everyone truly reflected the carnival theme we aimed for.
The children (and staff) looked fantastic and wholeheartedly engaged in our whole school carnival parade, which was full of colour, excitement and dancing.  It was clear that everyone had a great time!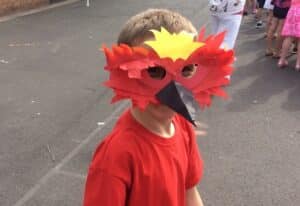 The afternoon events were so well attended so thank you to everyone who braved the sweltering heat. It was so lovely to see so many families and friends taking part in games, listening to stories and relaxing on the field enjoying all the lovely refreshments we were able to offer.
It would be unfair not to mention our Pupil Council as they did an amazing job of organising, setting up and running the stalls we had to offer. They were also very grateful that people came and took part.
So a HUGE thank you to everyone involved in making it possible and also to everyone who came to support the event. What a great community effort!